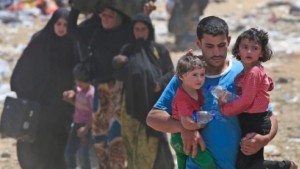 by Christina Forrester  4/7/17  1:04pm
In a fast-moving change of policy this week, President Trump and his administration have spoken out and taken bold action against Syrian dictator Assad after the brutal chemical weapons attack on civilians. Throughout the presidential campaign and since taking the oath of office, Trump has consistently defended dictators and has been willing to criticize our allies, and pretty much anyone else, except Putin and other dictators. We were glad to see Trump acknowledge the brutality and cruelty of the attack, but if he has truly had a change of heart, then he needs to change his tune on Syrian refugees now. If he has suddenly "seen the light" on dictators, he needs to not only take military action, but now show some compassion and reverse the hateful rhetorical message towards refugees he has spouted and embraced for so long. We as a community of faith are calling him out now to do make a public reversal of these policies and false claims.
Trump has consistently made statements such as "Syrian refugees are definitely, in many cases, ISIS-aligned," and "refugees could be the ultimate Trojan horse" (see 7 Lies Donald Trump Has Spread About Syrian Refugees Entering The U.S.). His rhetoric has far surpassed the understandable concern expressed by many that refugees be properly vetted, which is of course something we should do and that we have always done. He has used refugees to incite fear, taking it to a height of propaganda, planting and watering seeds of distrust, fear and even hate. From a moral perspective, this rhetoric has been one of the most wicked things the Far-Right and Trump message has done – and from a Biblical perspective also, when you consider scriptures such as James 1:27: "Religion that God our Father accepts as pure and faultless is this: to look after orphans and widows in their distress and to keep oneself from being polluted by the world" and Matt 25: 36: "I needed clothes and you clothed me, I was sick and you looked after me, I was in prison and you came to visit me."
Before the military response, Trump spoke this week about the disturbing images of children, babies being attacked with chemical weapons. Speaking  about the chemical weapons attack and the Trump administration response, Hillary Clinton said, "We cannot in one moment speak of Syria's babies and in the next moment close our doors to them." If the Trump administration wants to take military action but continues to close its doors to compassion for refugees, continues with plans to cut foreign aid, including to Syria, by billions, then it is missing the humanitarian, compassion and spiritual component to this entire crisis…making any talk of caring for the suffering people of Syria hypocritical.
"Watch yourselves closely so that you do not forget the things your eyes have seen or let them fade from your heart as long as you live. Teach them to your children and to their children after them" (Deuteronomy 4:9)
Christina Forrester is the Founder and Director of Christian Democrats of America. Follow her at @Christinaof9 and Christian Democrats at @ChristianDems.