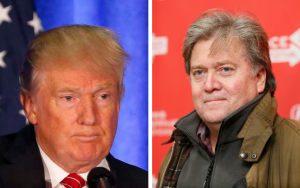 Many have been willing to give Trump a chance. We thought it might be a good sign that he had begun to strike a different tone and said he was willing to compromise with things like the Affordable Care Act. But the REAL evidence of how he planned to govern would be in his appointments. And in a sad, enraging and inflammatory move today, Donald Trump has decided to appoint the leader of the "Alt-Right" movement and the anti-semitic, anti-immigrant, sexist and racist website Breitbart.com, Steven Bannon as "chief strategist and senior counselor."  So much for "unifying the country."
Steve Bennon's Breitbart was put on the list of Hate Groups by the Southern Poverty Law Center in April, saying: "Since its founding in 2007, Breitbart News Network has grown to become one of the most popular news outlets on the right. Over the past year however, the outlet has undergone a noticeable shift toward embracing ideas on the extremist fringe of the conservative right. Racist ideas. Anti-Muslim and anti-immigrant ideas –– all key tenets making up an emerging racist ideology known as the 'Alt-Right.'"
Read the complete report here
.
NPR said in August,
"The views of the alt-right are widely seen as anti-Semitic and white supremacist. Most of its members are young white men who see themselves first and foremost as champions of their own demographic. However, apart from their allegiance to their 'tribe,' as they call it, their greatest points of unity lie in what they are against: multiculturalism, immigration, feminism and, above all, political correctness."
We cannot allow the Alt-Right to be normalized in this country. We will not allow hate-filled white supremacist propaganda to invade, live in this space and win. We will stand up as Christians Against Hate and for the love of Christ, which nothing can separate us from. We need to start with prayer and petition – join us for a special prayer vigil Wednesday night at 8pm EST/5pm PST. More details will be updated as they become available.
Please read and remember Romans 8:31-39..Nothing Can Separate Us from God's Love
31 What shall we say about such wonderful things as these? If God is for us, who can ever be against us? 32 Since he did not spare even his own Son but gave him up for us all, won't he also give us everything else?33 Who dares accuse us whom God has chosen for his own? No one—for God himself has given us right standing with himself. 34 Who then will condemn us? No one—for Christ Jesus died for us and was raised to life for us, and he is sitting in the place of honor at God's right hand, pleading for us.
35 Can anything ever separate us from Christ's love? Does it mean he no longer loves us if we have trouble or calamity, or are persecuted, or hungry, or destitute, or in danger, or threatened with death? 36 (As the Scriptures say, "For your sake we are killed every day; we are being slaughtered like sheep.") 37 No, despite all these things, overwhelming victory is ours through Christ, who loved us.
38 And I am convinced that nothing can ever separate us from God's love. Neither death nor life, neither angels nor demons, neither our fears for today nor our worries about tomorrow—not even the powers of hell can separate us from God's love. 39 No power in the sky above or in the earth below—indeed, nothing in all creation will ever be able to separate us from the love of God that is revealed in Christ Jesus our Lord.