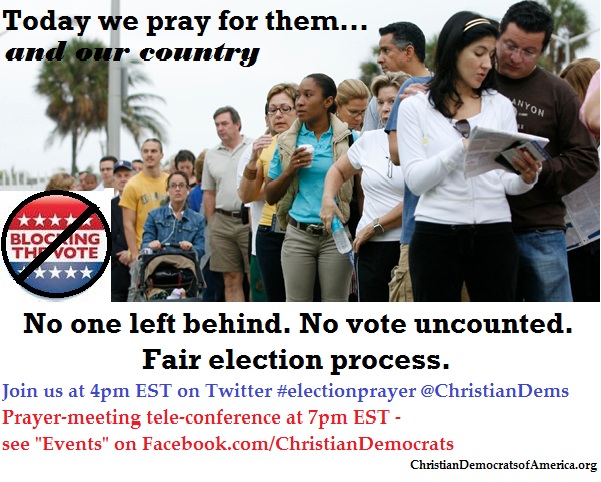 Today on Election Eve, CDA is hosting a nationwide day of prayer and we are excited to share this with all of you – EVERYONE is welcome to join us. As you know, this is a critical time for our country and more than ever we need to come together today for…
– a fair and balanced election process that will leave no one behind and no vote uncounted
– that those who will defend the vulnerable and uphold values of social justice will be elected into office Nov. 6th
The day's activities include…
– A Prayer Conference call at 7pm EST/6pm CST/5pm MTN/4pm PST with Reverend Derrick Harkins Director of Faith Outreach for the DNC; Dr. Barbara Williams-Skinner, President, Skinner Leadership Institute and Former Executive Director, Congressional Black Caucus; Pastor David Forrester, pastor and evangelist in Phoenix, AZ area of 34 years, and advisory board member to CDA, and Christina Forrester, Founder and Director of CDA. Call (559) 726-1200, access code: 418671 to listen in and you will have the chance to tweet or email in questions during the call.
– Live tweeting
with hashtag #electionprayer at 4pm EST – make comments, RT or tweet specific prayers with this hashtag and handle @ChristianDems.
Help us spread the word and join us at 4pm EST on Twitter and 7pm EST on the tele-conference!