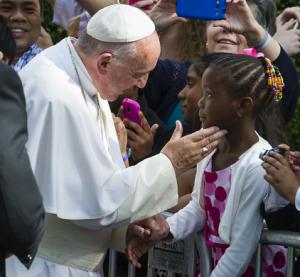 "You are called to defend and preserve the dignity of your fellow citizens in the tireless and demanding pursuit of the common good, for this is the chief aim of all politics," – Pope Francis to Congress.
For a few days we had an influx of the message of Christ's love and a reminder of the things in public life that truly matter for us as Christians in all denominations. We have heard the important issues taking up the political conversation – immigration, climate change, income inequality, homelessness, poverty and more – presented and discussed within the cloak of mercy and compassion and not within a partisan divide. It has been a breath of fresh air for our nation (the break from Donald Trump daily campaign coverage was a welcomed change as well!).
It is our hope that we can continue the conversation in the way Pope Francis presented it and our prayer that the seeds of working for the purpose of the common good instead of political gain were planted deep in hearts within Congress and within the Presidential candidates…miracles do happen! Related to spiritual things or not, we have already seen major shake-ups with the resignation of John Boehner as Speaker of the House. Whether this is a good thing for progressive values and the overall "common good" we are yet to see, but the ongoing impact of Pope Francis' visit will hopefully be strong and continue.
One reason the impact is far-reaching is simply the change of narrative. He has helped make it "normal" again for Christians to talk about the pro-life causes of advocacy for the poor, against the death penalty, and to see a welcoming and compassionate attitude towards immigrants. We must continue talking about our values, spreading kindness and mercy and challenging our leaders to put the common good first.
Below are reference links for you of transcripts and great articles on the Pope's visit.