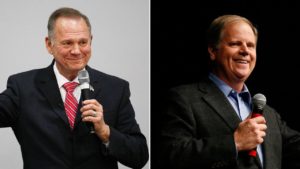 In a  surprising upset, Doug Jones has won the Alabama Senate election, beating Roy Moore. Alabamans have drawn the red-state line of how far into the swamp they are willing to go before electing a Democrat and Steve Bannon and Donald Trump stand defeated tonight. But we can never let the GOP forget that the RNC supported and funded a candidate with credible accusations of child molestation, who believed the Civil War era was the last time America was great, believes Muslims should not be allowed in the Senate and that homosexuality should be against the law. The GOP still owns this, but thankfully women, minorities and Christians who are standing up for real values in Alabama made the difference! Thank you to everyone for signing and sharing our petition to raise the voices of people of faith against Roy Moore.
More from the New York Times…
BIRMINGHAM, Ala. — Doug Jones, a Democratic former prosecutor who mounted a seemingly quixotic Senate campaign in the face of Republican dominance here, defeated his scandal-scarred opponent, Roy S. Moore, after a brutal campaign marked by accusations of sexual abuse and child molestation against the Republican, according to The Associated Press.
The upset delivered an unimagined victory for Democrats and shaved Republicans' unstable Senate majority to a single seat.
Mr. Jones's victory could have drastic consequences on the national level, snarling Republicans' legislative agenda in Washington and opening, for the first time, a realistic but still difficult path for Democrats to capture the Senate next year. It amounted to a stinging snub of President Trump, who broke with much of his party and fully embraced Mr. Moore's candidacy, seeking to rally support for him in the closing days of the campaign.
Sue Bell Cobb, a former chief judge of the Alabama Supreme Court, said Mr. Jones had overcome a culture of "toxic partisanship," reaching out to Republicans and electrifying restive Democrats.
"Never has there been this level of civic engagement," said Ms. Cobb, who is planning to run for governor next year. "Never has it happened."