ANNOUNCING: What Would Jesus Pod?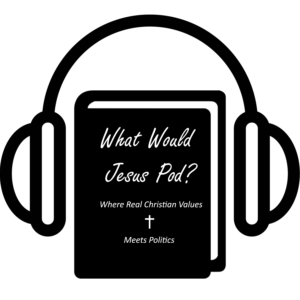 "Where real Christian values meets politics"
CDA has been running podcasts for several years during the election cycle, but we are finally expanding with a weekly podcast show, "What Would Jesus Pod?" This is not your average Christian political talk radio. We will be bringing together current news, politics and social justice issues through the lens of true Christian values, giving a much needed new voice to Christian Democrats and progressives. 'I am excited to finally have the opportunity to give our movement a voice in the world of podcasts – it is past time for an alternative to Religious Right Talk Radio!' Christina Forrester, CDA Founder and Director, show creator and host, says "There has always been a vision to expand our podcast, which usually runs around election times, to a full weekly podcast and that time is finally here. Christian Democrats and progressives have needed a platform and voice to represent their values, and this is an exciting new outreach to make this happen."
Phoenix producer, political activist and advisor to the Joan Greene for Congress campaign, Justin Anderson, will be co-hosting and producing the podcast. "I am proud to finally hand a microphone to the liberal Christians to help spread a message of progress, peace and kindness, which is long overdue. I will be bringing my audio skills to the table to bring this show to you and I'm excited to be a part of this team and the potential it brings. "
The first episode of "What Would Jesus Pod?" will be available wherever you listen to podcasts on Thursday, June 7th. Watch CDA Twitter and Facebook for updates on release, as well as a Facebook live video of a portion of the first broadcast on Thursday.
Our hosts and contributors…