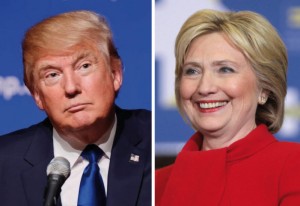 Last night we saw two very contrasting views on America, the Presidency, what a leader should be, how a leader should treat people, moral judgment and yes, values. Not only did Hillary Clinton call out Trump on his faulty policies such as "Trumped Up Trickle Down" economics and raised doubts about his foreign policy ideas and whether he would rule out nuclear weapons, but she pointed out his immoral, racist and sexist remarks and behaviors – all of which he did not veer away from, but actually reinforced. In fact, Trump's biggest bragging points were how he forced the first African-American President to show his papers and was justified in calling Rosie O 'Donnell a "fat pig," claiming most people would agree "she deserved it." That sounds like a good candidate for Christians – call people ugly names if you think they deserve it. Compare that to what Jesus said in Matthew 5:21-22 "You have heard that it was said to the people long ago, 'You shall not murder, and anyone who murders will be subject to judgment.' But I tell you that anyone who is angry with a brother or sister will be subject to judgment. Again, anyone who says to a brother or sister, 'Raca,'is answerable to the court. And anyone who says, 'You fool!' will be in danger of the fire of hell." 
Like Hillary Clinton said, it seems words DO matter.
Trump proved Hillary right again today by continuing to double-down on his comments about  Latino Miss Universe Alicia Machado, saying, "She was the winner, and she gained a massive amount of weight, and it was a real problem. We had a real problem with her." The consistent defense of offensive and just plain mean comments is shocking, especially in a Presidential debate. Trump makes no apologies for these attacks lines, and in fact reinforced Hillary's own assertions of sexism and racism.
Here are just a few quotes on last night's debate and links to great editorials:
"Republican nominee Donald Trump turned in the worst ― and I mean worst ― debate performance in modern times. It was so bad that in a normal year, it would disqualify him from getting anywhere near the White House. "- Howard Fineman
"Anybody who was watching the debate I think got a sense that you got really sharply contrasting visions about where we should take the country. I am admittedly biased. I've worked with Hillary, I know her, she is well prepared, she's got the right temperament for the job, she's well respected around the world, she's serious, she does her homework and she's got a vision to put people back to work and make sure the economy is working for everybody and not just a few. I would say that the other guy doesn't have the preparation, the temperament or the core values of inclusion and making everybody have opportunities that would take our country forward." – President Barack Obama
"Hillary won big time. It was a shut out." – Chris Matthews
"Ladies and gentlemen, whatever civility once existed in our politics is tonight officially dead. Never in the history of televised debates have we witnessed such a show. And that's what the Donald wanted. A show…To call Trump a con man, as many have, is a disservice to the art of the con. By its definition a con requires deceit. But Trump has not tried to hide his lies or the sheer unrealistic audacity of his cartoonish policy positions. He has asked the American people to bet on him. The fact checkers will certainly weigh in. The pundits will have their say. But the voters have all the information they need. The judgement is in their – or more accurately our – hands. "- Dan Rather
The preparation and the prayer worked, and all of America was able to see the stark contrast between Hillary Clinton and Donald Trump. One was prepared, one was not. One was knowledgeable and Presidential, one was not.  Donald Trump proved last night he is not the kind of President any Christian should want and or one the poor, vulnerable or middle class in America needs.