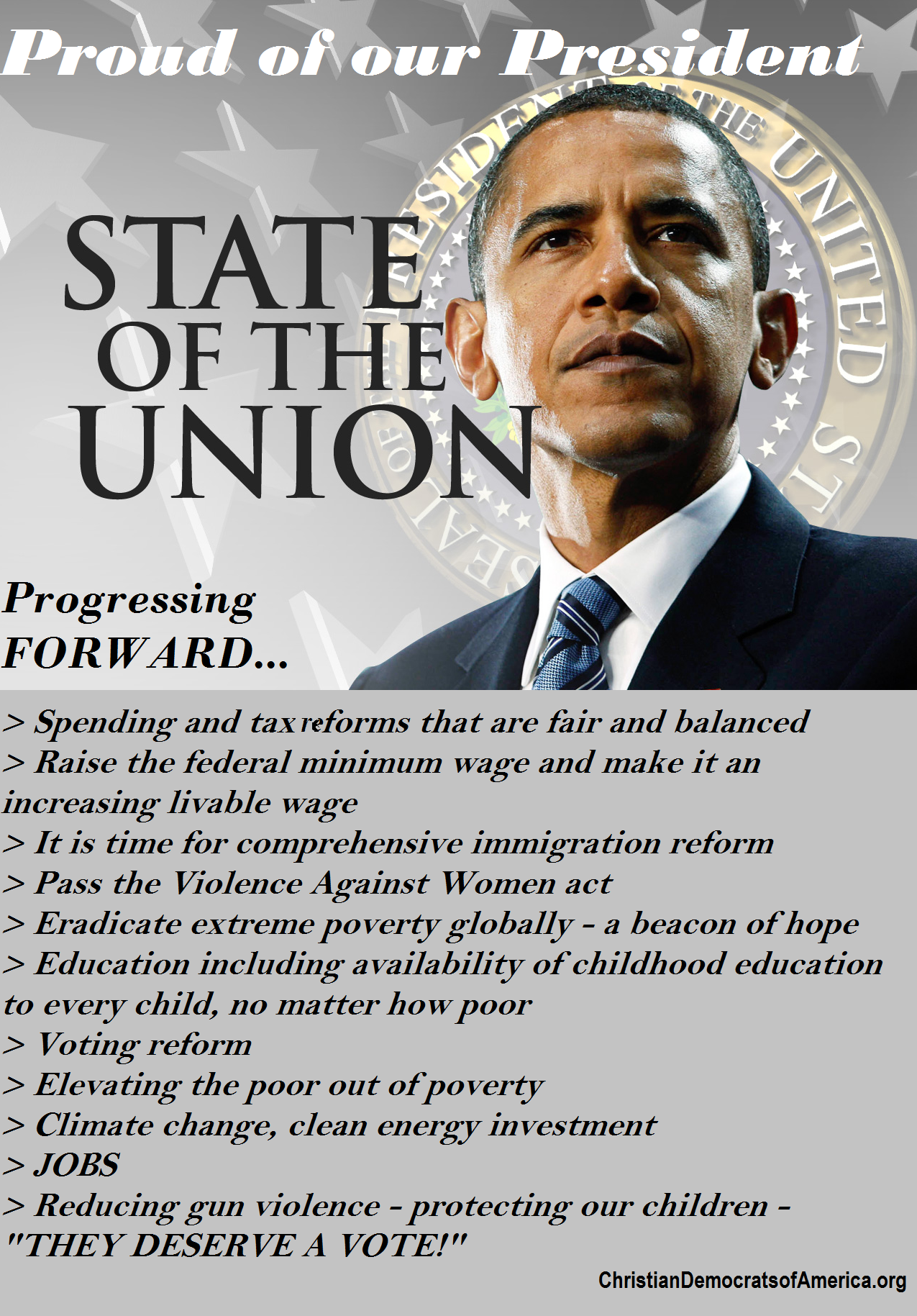 The State of the Union is…progressing forward! The President laid out an agenda for the country that was centered around social justice values, including increasing the minimum wage and laying out a plan for a consistent increase to make this a livable wage, giving all children the same opportunities to attend early childhood education, jobs, voting reform, comprehensive immigration reform, clean energy, and a moving push for responsible measures to end gun violence…and this is just a sample. The President stood strong on our values with realistic solutions and plenty of compromise. And he stood up for the working poor and the extreme poor, the vulnerable and in need.
We expect Republicans to not applaud for partisan ideas…but not applauding for wage increases and job creation is inexcusable. 
A Call for "Smarter Government" to Act
WASHINGTON — President Obama, seeking to put the prosperity and promise of the middle class at the heart of his second-term agenda, called on Congress on Tuesday night to raise the federal minimum wage to $9 an hour, saying that would lift millions out of poverty and energize the economy.
In an assertive State of the Union address that fleshed out the populist themes of his inauguration speech, Mr. Obama declared it was "our generation's task" to "reignite the true engine of America's economic growth — a rising, thriving middle class."
"Every day," he said, "we should ask ourselves three questions as a nation: How do we attract more jobs to our shores? How do we equip our people with the skills to get those jobs? And how do we make sure that hard work leads to a decent living?"
The increase in the minimum wage, from $7.25 an hour now, was the most tangible of a raft of initiatives laid out by the president, from education and energy to public works projects. Taken together, Mr. Obama said, these investments would accelerate the nation's recovery by helping those in the broad middle class.
Raising the minimum wage holds particular political appeal for younger Americans, struggling workers and labor groups, all of which were important to Mr. Obama's re-election. His proposal drew one of the loudest ovations of the evening from Democrats in the House chamber.
Read the full article: http://www.nytimes.com/2013/02/13/us/politics/obama-delivers-state-of-the-union-address.html