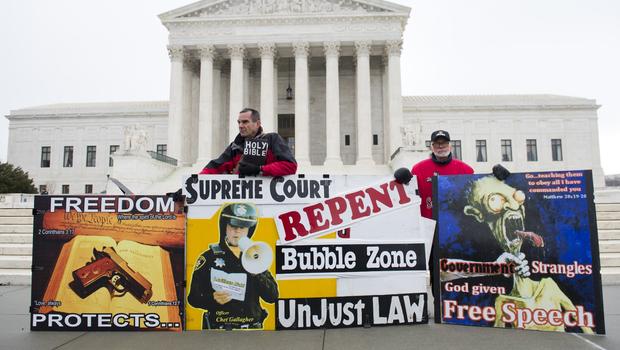 What do you think? Should protesters be allowed to stand at the entrances to clinics? Was this the right move by the Supreme Court to protect our freedom of speech, or will it potentially increase violence and harassment? 
If "counselors" are indeed there to show compassion, lend a helping hand and reach out in a loving way to young girls seeking help, that is one thing, and bless them for it. But harassment, yelling, screaming and insulting is not only unhelpful, it is un-Christian – and those engaging in that behavior are no less guilty of sin than the very thing they are hatefully condemning. 
Supreme Court strikes down abortion clinic buffer zone law
In a unanimous opinion, the Supreme Court struck down a Massachusetts law Thursday that set a 35-foot buffer zone around abortion clinics, saying it violates the First Amendment. Massachusetts had argued that the buffer zone, which anti-abortion protesters said violated their speech rights, keeps patients and clinic staff safer.
"The buffer zones burden substantially more speech than necessary to achieve the Commonwealth's asserted interests," the court's decision, by Chief Justice John Roberts, said. It conceded that Massachusetts has "legitimate inter­ests in maintaining public safety on streets and sidewalks and in preserving access to adjacent reproductive healthcare facilities," but ultimately "impose serious burdens on petition­ers' speech, depriving them of their two primary methods of com­municating with arriving patients: close, personal conversations and distribution of literature."
Read the full article: http://www.msnbc.com/msnbc/supreme-court-strikes-down-abortion-clinic-buffer-zone-law